PAC Products DXT2 1 dog 2 buttons Training System: Refurbished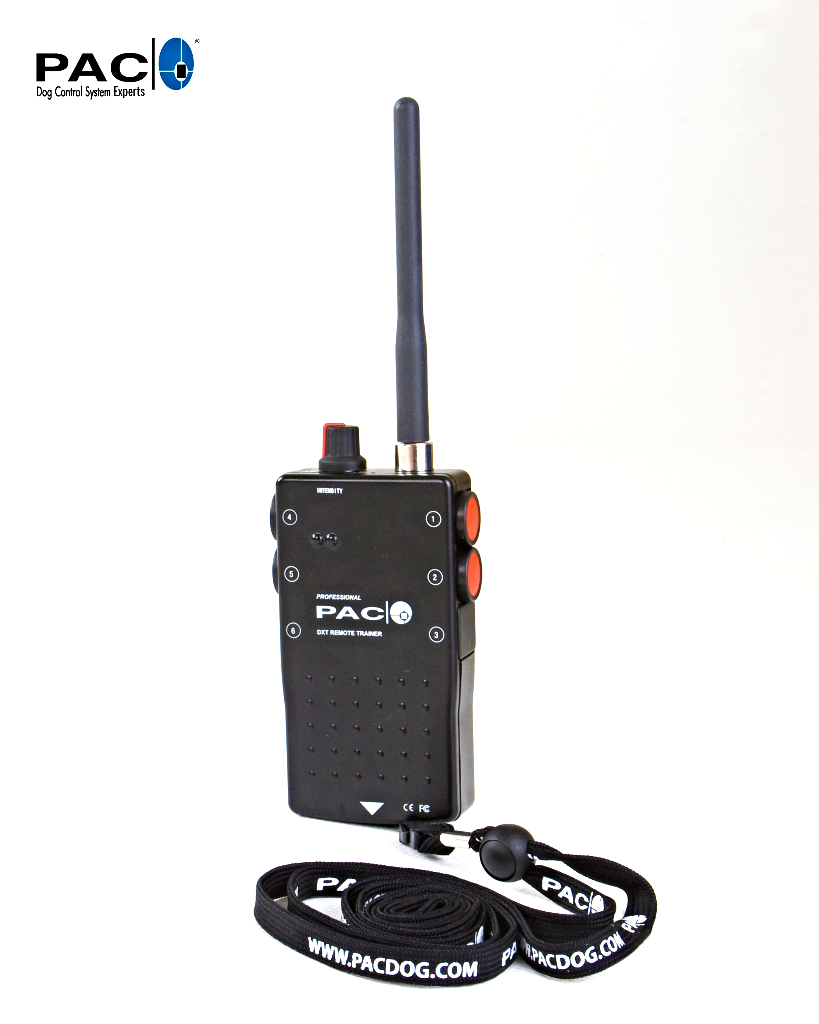 PAC Products DXT2 1 dog 2 buttons Training System: Refurbished
So we have managed to get our hands on a limited quantity of refurbished DXT2 system's from PAC Products. These systems usually cost €200.99.
This unmissable offer will only be available for a short period of time. This item comes with a 90 day warranty.
PAC's DXT Advanced digital FSK range comprises 5 models capable of controlling between one and six dogs (Handset and number of active collars dependant.) Buttons enable either a tone warning, short or continuous stimulus on each dog.
Trigger buttons enable either a tone warning, short or continuous stimulus on each dog. The DXT handset is a ruggedised transmitter, capable of long range, with a unique modular design, enabling upgrade (if necessary) from lower specification models in the DXT range.
The DXT handset can also offer effective individual control for each of two dogs – at no extra cost (other than that for a second collar).
Up to 5 days continuous use from high capacity, rechargeable batteries.
All control of intensity from handset, with smooth and rapid adjustment from pins and needles to full power.
Audible warning tone on the collar, controlled from the handset, is provided as standard
Options for up to six dogs to be controlled individually from the one handset, with a selection of three different correction modes
Choice of handset models to match trainer requirements, DXT2-popular (Basic Mode), DXT2-enhanced, DXT3-professional, DXT4-enhanced and DXT6-professional
Timer Controlled Charging Dock
The collar electronics are enclosed in an extremely tough, watertight plastic housing that also conceals a highly sensitive internal antenna, ruggedised to withstand the most demanding environment. All collars in the series have a 'tone' warning. Two stimulation modes are available: the very humane 'momentary' (twin-pulse) tickle, and the more urgent, 'continuous' pulsing. Combinations of these, together with tone, can be assigned simply to the various trigger buttons to allow the user to select the ideal control for his dog(s). Options that cater for most situations are pre-set before delivery.
Unique Mode Selection: Other dog training modes are available by resetting the handset off-field to allow there assignment of control on each trigger.
In Mode B (Basic Mode) each handset trigger is assigned to an individual dog. (see Illustration below)
In Mode H (Hybrid Mode) each handset trigger is assigned two functions depending on Intensity position (middle, right)
In Mode E/P (Enhanced/Professional Mode) each button is assigned an individual function.
---
Ideal for all types of persistent problems:
Pets running off and being willfully 'deaf' to recall
Worrying of farm stock, chasing deer, horses, cats and other animals
Chasing cars, joggers, cyclists, postmen etc.
Jumping up and/or stealing food
Sheepdogs 'gripping' sheep when conveniently far away
Gun dogs running in, ranging too far or being over-enthusiastic
---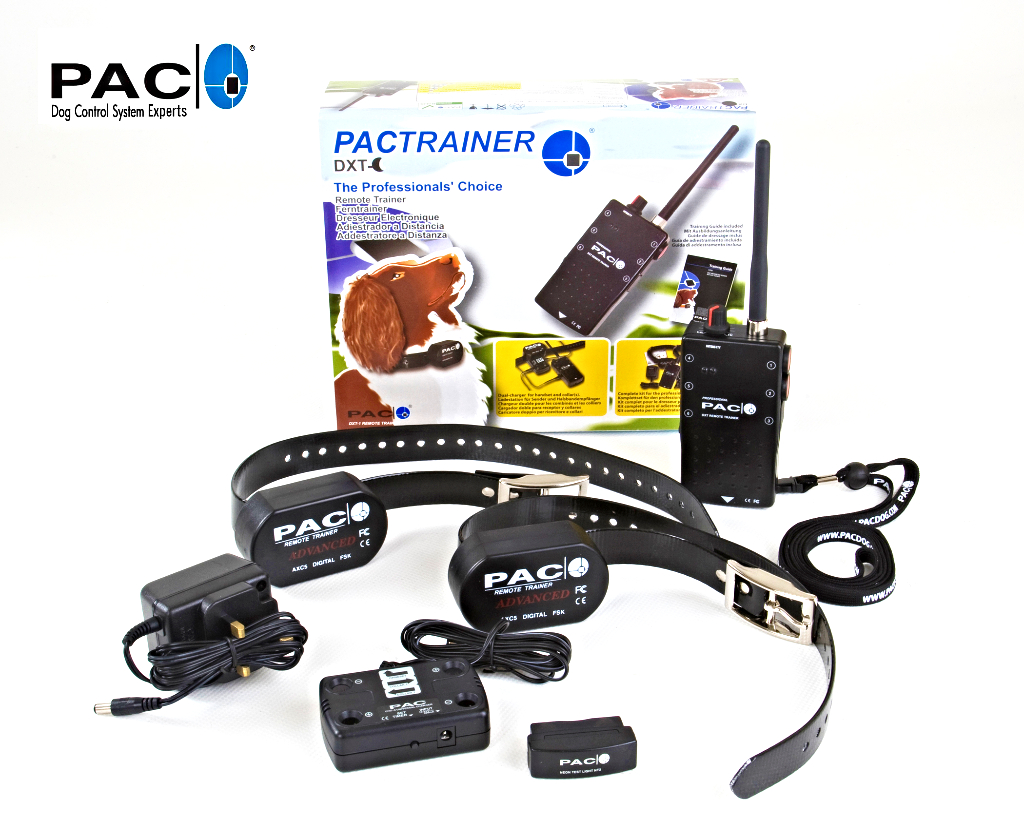 DXT Content Kit
Operating Instructions
Training Guide (Optional)
Mains Power Adapter
Charging Dock
Active Collar (BXC Collar)
Dummy Collar
Antenna
Transmitter Handset
Neon Tester
Pointed Probes
This kit includes everything you need for one dog. If you want this kit for two dogs please add an extra collar to the basket before checkout.
Sprobes for thick haired dog breeds

Spare probes for thick haired dog breeds
This video demonstrates how to change from dummy collar to live training. This is critical part of training your dog using the Pac Remote Trainer. Find more great instructional videos at www.youtube.com/pacdogcollars